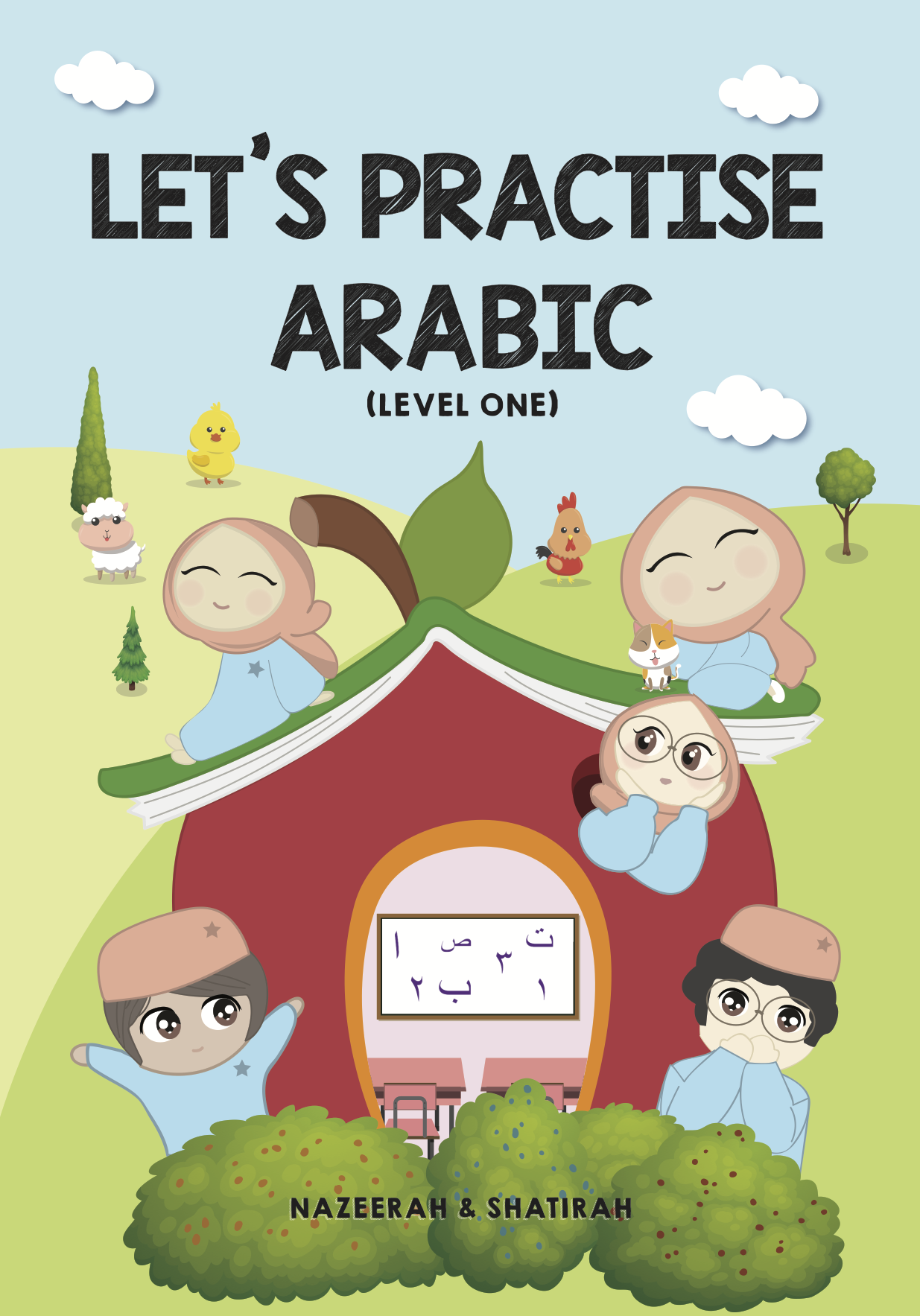 Arabic Workbook for
Primary Students
&
Adult Learners
Let's Practice Arabic – Level 1
Second Edition
Bite-sized exercises crafted especially for your kids to support their exam preparations while steadily laying a strong foundation in Arabic language.
To explore and experience the richness of the Arabic language.
To understand and apply simple articles in Arabic.
Verbs & Nouns Construction
To reinforce their knowledge of conjugations in present tense and possessive pronouns.
To learn construction of Arabic sentences from jumbled-up words.
To increase vocabulary with a list of new words for each unit.
Parents
A Family activity together with your kids.
Bond with your child with these bite-sized Arabic activity book and use the answer sheets to check your children's work.
Schools & Institutions.
Providing great value for Students.
Madrasah Al-Arabiah Al-Islamiah
Madrasah Wak Tanjong Al-Islamiah
Madrasah Irsyad Zuhri Al-Islamiah
Madrasah Aljunied Al-Islamiah
Madrasah Al-Ma'arif Al-Islamiah
Madrasah Alsagoff Al-Arabiah
Sekolah Ugama Radin Mas (SURM)
Al-khairiah Islamic School
Brainy Bunch International Islamic Montessori
AlKhair English Madrasah
Al-Amin Education Pte Ltd
Hanis Montessori Kindergarten
Kolej Islam Muhammadiyah (KIM)
Muslim Converts' Association of Singapore (Darul Arqam Singapore)
Ideal kidz
IMAN Kindergarten & Childcare
Islamic Worldview School
Al-Amin Education Centre
Al Nasry kindergarden
Zulfa Kindergarten
Pergas (Persatuan Ulama dan Guru-Guru Agama Islam Singapura (Singapore Islamic Scholars and Religious Teachers Association)
Jamiyah Education Centre (JEC)
Islamic Religious Council of Singapore
Albany Montessori Kindergarten
Al-Ahdaf Academy (AAA)
Madrasah Perdaus (Imad Perdaus)
Junior Seekers Arabic Student Care
MIJ Hub
Nur Insan
Tuhfah Learning Centre
Al-khairiah Islamic School / Madrasah Al-Khairiah Islamic Academy
Al Misbah Academy
Apkim Resources
Darul Huffaz Learning Centre
Jamiyah Children's Home
Sekolah Islam Nabilah
Adult Learners
Practise & self correction using Suggested Answers.
– courtesy of NAZEERAH & SHATIRAH –
LET'S PRACTISE ARABIC (LEVEL 1) – SECOND EDITION.
Buy from your favourite retailer!